ELECTRIC GATE OPENERS
Electric gate openers since 1999
Talk Directly With Electric Gate Opener Technician
(210) 610-2085
If you want to install an electric gate opener on your new or old gate, for your home or business, we are right here for you! Page Title: Commercial Doors Need to install commercial doors for your business space? San Antonio Garage Door & Gate is just the right contractor for you! We are dedicated to offering top-grade commercial door solutions for businesses across San Antonio where we cater to the needs of one and all in the commercial sphere – from office establishments, facility managers, building owners to schools, churches, industrial parks, and general contractors. Call us now to book an expert consultation with us for free!
We Help You Choose and Install the Right Electric Gate Opener
We are dedicated to helping our clients choose the best electric gate opener for their budget and needs. Our team of expert technicians can give you the right advice on what type of electric gate opener you should install for your gate. This is an important first step when it comes to choosing an electric gate opener and we can help you pick the right one from a variety of styles and options available.
The type of gate opener varies with different types of gates – such as swing gates, sliding gates or dual gates. Our electric gate openers are reliable and of superior quality. Swing gates used in homes and residential units are lighter. For these, electric gate openers built for lighter usage are most suitable. Sliding gates, on the other hand, experience heavy usage, which makes them a perfect match for our heavy duty electric gate openers. These can withstand a lot of use and still last long.
Every gate opener has a fixed horsepower and maximum weight threshold for the gates that can be opened with it. Before choosing the opener you have to find out the weight of the gate and the amount of power that will be required to open it easily.
In the case of sliding gates, the time taken to slide the gate is also important while choosing the electric gate opener. And if you have swing gates, double or single swing would be the determining factor in selecting the perfect gate opener. We also have single or dual electric gate openers for dual gate systems.
After the right gate opener has been selected, our technicians will then install the electric gate opener and explain how it works – it's actually quite simple!
SENTRY SAN ANTONIO TEXAS GATE PROS… SIMPLY THE BEST QUALITY & PRICE!!!
LIFTMASTER AUTOMATIC GATES

SOLAR AUTOMATIC DRIVEWAY GATES

SLIDING AUTOMATIC DRIVEWAY GATES
Please use this electric gate opener form to schedule or ask questions; we will respond quickly.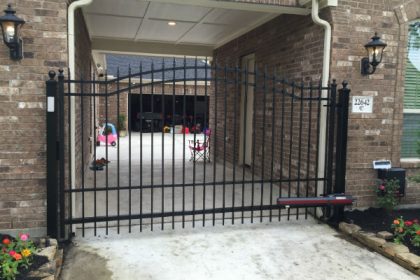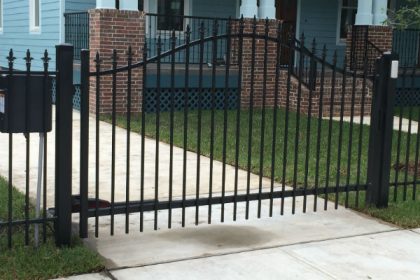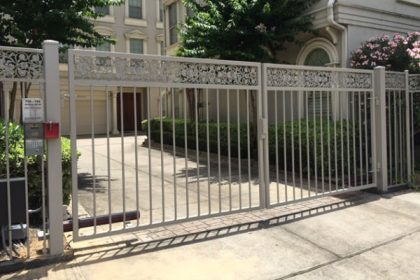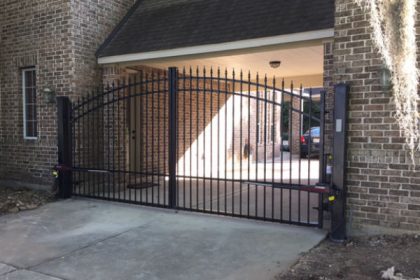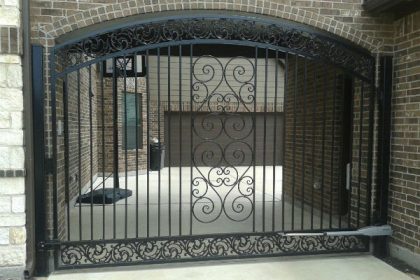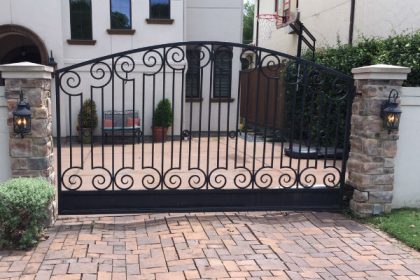 CALL FOR #1 ELECTRIC DRIVEWAY GATES (210) 610-2085
Advantages of Installing an Electric Gate Opener
Electric gate openers make things simpler for you as you can open your gates with just a push of button, or by punching in your security code. Electric gate openers not only make opening the gate effortless, but they save time and also add a layer of security to your home.
You can open your gate by operating the push button controllers, which are battery operated. Another way to open the gate is with the help of the keypad. Just punch in your security code into the keypad and gate will open or close. A keypad option is more secure as you can change the code from time to time. If you are having a party, you can give the code to your guests and change it back after they leave.
Convenience
You can open your gate from your car or home without having to step out in bad weather, or when you're in a rush. Installing an electric gate opener would save you the hassle of getting in and out of the car every time you go out or are coming back home.
Security
No one can open the gate without having the control or the security code. This secures your home a step further by preventing intruders and trespassers from having an access to your home. You can control who you want to let inside your property and keep others out.
Why Choose San Antonio Door & Gate
Our experience and expertise enables us to offer you solutions tailor made for you. We can provide end-to-end solutions, for example install the gate of your choice at your home or business and provide you with electric gate openers which suit your gate perfectly. We can also retrofit your existing gates with automated solutions.
We have been designing and installing a wide variety of gates and doors and accessories, and have a long list of happy customers across San Antonio. If you want to join them, contact us today. To find out more about our electric gate openers or any other service like our garage door opener service call us today.